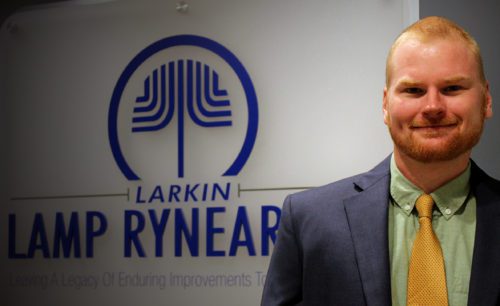 Senior project manager, Dan McGhee, joined Lamp Rynearson's Kansas City office to further develop his technical skills with a group of seasoned engineers in the Civil Design Group. Private land development in Kansas City is a key service and Dan will play a critical role in partnering with our developer clients.
Initially starting his 14-year career in land development and working on residential and commercial developments, Dan decided to diversify his skill set when the economy took a downturn in 2009. Focusing on municipal infrastructure projects, he expanded his skill set to site civil for wastewater treatment plants, gravity interceptor improvements, pump stations and force main projects. He continues to push himself to stay creative and produce first-rate work for the best possible value.
"Seeing my hand-drawn sketches and preliminary concepts turn into successfully constructed projects is exciting and energizes me for the next opportunity and project."
For Dan, great engineering leads to all kinds of wins. His skill for winning plays out in his love for fantasy football. Dan can't get enough of analytics and spends his free time tinkering with his roster and building a team.
Learn more about our Land Development and Redevelopment services here.