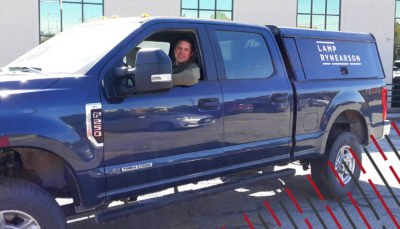 KANSAS CITY – Lamp Rynearson is now offering land surveying as a service mobilized from their Kansas City office. The firm has hired Kellan Gregory, PLS, as the Survey Project Manager to lead this expansion.
"Lamp Rynearson has offered land surveying services out of Omaha since our founding in 1959. When the Kansas City office was acquired in 2013, it was a matter of timing and finding the right leadership to begin offering this service to our clients here," commented Office Leader Tony O'Malley. "Kellan Gregory brings the right leadership and technical experience required to successfully build and grow a surveying team."
Gregory has 17 years of experience in the field of land surveying. He is licensed by the Federal Aviation Administration as a Remote Pilot and can provide variety of cutting-edge services using an aerial drone. Prior to joining Lamp Rynearson, Gregory led surveying efforts on a 2018 Neighborhood Street Reconstruction Program for Overland Park, Kansas.
"The opportunity to build a service program where I have developed my career is nearly once in a lifetime. I am excited to join the reputation for excellence that Lamp Rynearson has in Kansas City, and work with their variety of engineering services to be a service provider that is second to none," stated Gregory.
As a civil engineering firm offering planning, design, survey, landscape architecture, and construction contract administration services for public infrastructure and private development and redevelopment projects, Lamp Rynearson's purpose statement is to "Leave a Legacy of Enduring Improvements to Our Communities." The firm has four office locations and over 180 employees, with headquarters in the greater Omaha area since 1959.