Come work for us.
Click on the button below to view our current openings and apply for positions.
Work Here. Grow Here.
A critical focus area for our strategic plan is developing the heart of our business – our employees! We have many amazing employees who celebrate "milestone" work anniversaries throughout the year. Check out the #WorkHereGrowHere features that highlight our staff, what they do, and why we love them.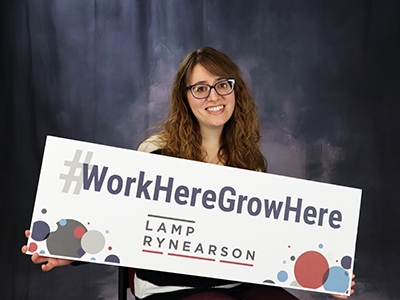 Five years ago, Sam Christensen was the 2nd hire of a now five member team of professional landscape architects. Being part of that growth and the projects they work on is what attracted Sam to join Lamp Rynearson. She has always been prepared to fulfill whatever needs the Landscape Architecture team has and is most proud of becoming a "Waters of the U.S." expert. Traveling throughout the U.S. and internationally has given Sam the opportunity to explore outdoor spaces both designed and natural, learning from them and developing her into an amazing member of the Landscape Architecture team. Happy 5-year anniversary, Sam!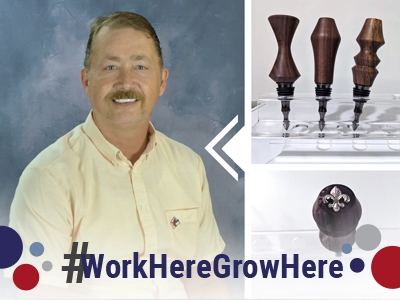 Engineering technician by day, wood turner by night, we are excited to be celebrating 15 years of Darrell Adams' diverse talents! When Darrell first graduated from college, his professor asked him if he wanted to design swimming pools. Not long after that, he interviewed at Lamp Rynearson and began contributing his creativity and can-do attitude on countless water and wastewater projects. Throughout his time here, Darrell has received his 10-hour OSHA training, Manhole (MH) Inspection Certification, and is looking forward to developing his skills in ArcGIS as well as assisting our Survey Department with raw data. We are grateful for Darrell's commitment to Lamp Rynearson and the projects he designs. Don't forget to check out his handmade bottle stoppers in the photo above! #WorkHereGrowHere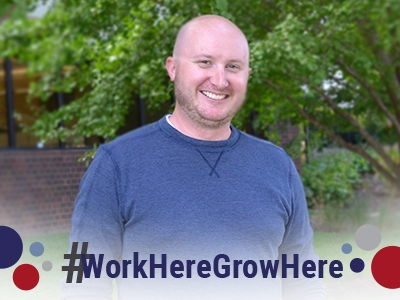 If we've learned anything about Zack Fergus over the past five years, it's that his energy for creating cool, "people-centric" spaces is unmatched! As a Senior Landscape Architect, Zack takes pride in truly partnering with clients. It comes naturally for him – he can't help being as excited (sometimes even more so!) as the project owner, watching conceptual sketches progress into real-life places. Creating beautiful, safe environments for people to live, work, and enjoy is what fills Zack's cup. Where does this talented landscape architect find his inspiration? Traveling, specifically road trips, with his family of four! As a parent, experiencing the world through the eyes of two seven-year-old girls is revitalizing and a source of creative perspective for him as he imagines new places. Happy 5-year anniversary, Zack! #WorkHereGrowHere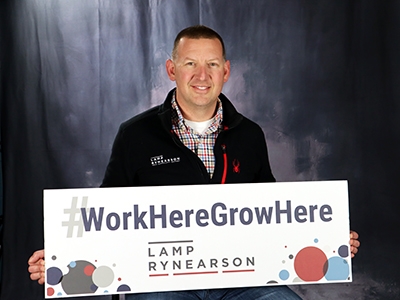 Over the last 20 years with Lamp Rynearson, Senior Construction Engineer, Dave McIvor has experienced a variety of projects. From the runways of Eppley Airfield to the oldest sewers of Omaha, Dave has seen it all. As a college student, Dave earned a Lamp Rynearson scholarship and internship opportunity and never looked back. Attracted by the variety of projects and high level of professionalism of our firm, Dave thrived in the world of Construction Administration while working onsite at the Omaha Convention Center and Arena (2002). Since then he has been part of many successful projects including Aksarben Village, multiple CSO Omaha sewer separation projects and subdivisions all over the metropolitan area. However, Dave is most proud of the relationships he has cultivated over the last 20 years with employees he considers friends.
"It's very rewarding to me to connect on this kind of deeper level, whether it's a close personal friendship, a mentoring relationship, or because of shared interests outside of work. That's what I'm most proud of accomplishing, and I look forward to those relationships continuing to grow throughout my career."
We couldn't agree more and want to thank Dave McIvor for his 20 years of commitment to the Lamp Rynearson family. Congratulations, Dave!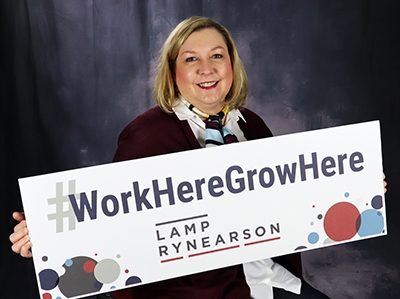 Client Development Manager Marlene Knight joined the Lamp Rynearson team because she recognized our great reputation and leadership, not to mention getting to work closely with the fabulous Leslie Peterson. During this time, Marlene has gained a thorough understanding of all the facets of our business, which is both broad and complex – so many acronyms in the engineering world! She has enjoyed building relationships internally and with clients while pursuing new opportunities. In just her first year, Marlene has been instrumental in hosting several client events and our 60th Anniversary Celebration. With many interests and projects, such as traveling, cooking, and finding unique antiques, we are excited to have this multi-talented team member elevating our client experience for years to come. Congratulations on your first anniversary with Lamp Rynearson, Marlene! #WorkHereGrowHere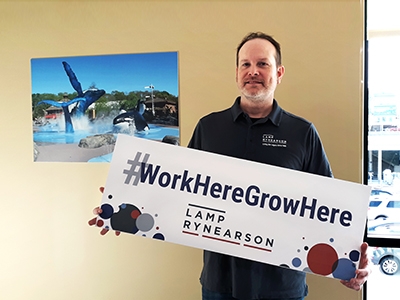 Are you itching to get back to the City pool this summer for a swim? If so, you can probably thank Jeff Borschuk, our Senior Project Designer, for making sure it is in tip-top shape! Jeff has been designing aquatic facilities in the Midwest for over 20 years and is celebrating 5 of those in Lamp Rynearson's Kansas City office. He originally landed at Lamp Rynearson on assignment through a design contractor and, since then, has been a creative powerhouse on everything from lazy rivers to waterslides. Jeff recently became a Licensed Architect and he is excited to explore the pool design process in REVIT. Both his hard work and team spirit can be traced back to his baseball days, playing for many years in wood-bat summer leagues. Congratulations on your 5-year anniversary, Jeff! #WorkHereGrowHere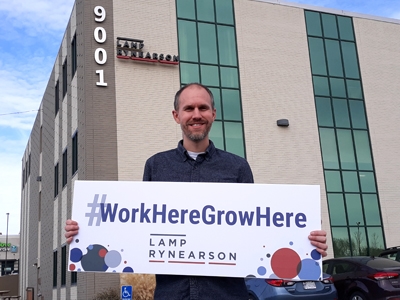 Project Manager Andrew Conard has designed over $30 million in construction projects – and he's just getting started! After five years at Lamp Rynearson, he has earned his Professional Engineering license and has quickly grown into a leader in wastewater engineering. Andrew's fast ascent can be attributed to his desire to grow technically and help solve the world's problems. He keeps the swift pace on a personal level too by running half marathons. Although running the distance has become easier for Andrew, he likes that he can continue to challenge himself by running faster… There seems to be a "speedy" way about Andrew that is a driver to his success! Congratulations on your 5-year anniversary, Andrew! #WorkHereGrowHere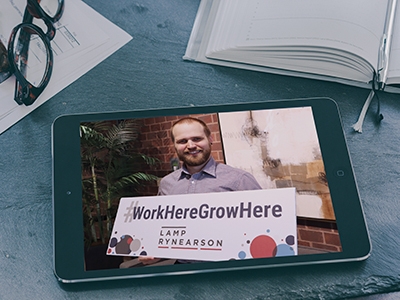 The world of digital 3D and augmented reality (AR) has been brought to the engineering industry by Paul Kluka! As a 3D Modeling Technician at Lamp Rynearson, Paul has adapted his background in video game/video slot machines to bring life to client projects before they're built. A project Paul crafted in AR during his first year was a stair set and statue/planter at Omaha's iconic Midtown Crossing. He worked with the Landscape Architecture Group and our GIS specialist to build a 3D scene that clients could interact with in the real world using a tablet. How handy is that! Paul, thank you for making your world of 3D and AR accessible for our clients. Congratulations on your 1-year anniversary! #WorkHereGrowHere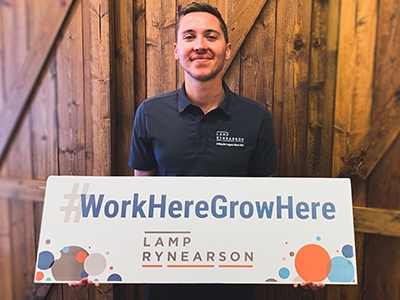 Career fairs are so important! That's how Lamp Rynearson was introduced to Project Engineer David Crawford. This ambitious young professional is eager to learn, and has found the training and tools he needs to succeed at our firm! During his first year, David has gained experience in all sorts of new programs and tasks that are fundamental to a career in engineering. His sights are set on several future milestones, including earning his PE and learning how to implement sustainable design into future projects. Although David is in the learning stages of his career, there are many things we've learned from him – David schools colleagues in frisbee golf on the occasional Friday afternoons when we gather for a little extracurricular fun! Happy 1-year anniversary, David! #WorkHereGrowHere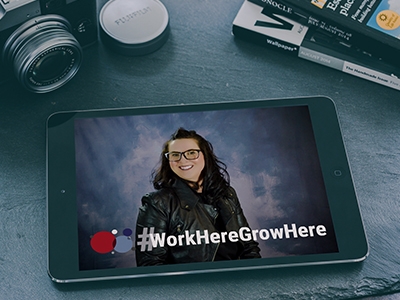 If there has ever been anyone with a "can do" attitude, it's our very own Teddianne Vaught! In her first year at Lamp Rynearson as a marketing coordinator, she's already achieved many great accomplishments. The first BIG WIN project she helped the Kansas City office bring home was also the first proposal effort she led "flying solo" after training. She also applied for and received an internal transfer to the Colorado Region office, a big change both professionally and personally! One things for sure – no task is too big or too small for Teddianne. When she's not busy churning out successes left and right, Teddianne makes sure to stop and smell the roses. Her passion of photography helps her slow down to notice the world in a way that most folks don't take the time to. Congratulations on your 1-year anniversary, Teddianne! #WorkHereGrowHere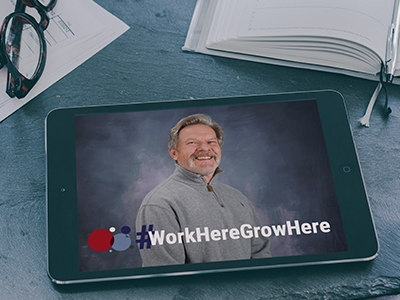 In Jim Fronapfel's first year at Lamp Rynearson, we've quickly learned this project designer is a multifaceted professional! In the office, Jim assists with a variety of work including AutoCAD, ArcMap, and starting set up procedures for workflow in GIS. Outside of work hours, Jim trains riding horses, immerses himself in fine art creation, and even dabbles in performance art. Jim's ability to be a dynamic contributor makes him a great team member! He's often plugged into projects to assist with short run needs, one of Jim's favorites being restoration work on diversion structures. Congratulations on your 1-year anniversary, Jim! #WorkHereGrowHere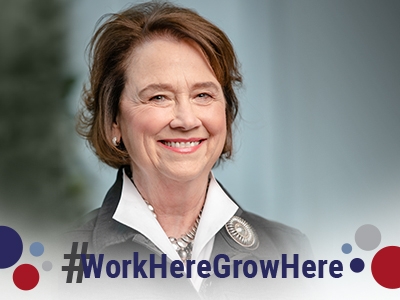 Congratulations to our "vibe" manager – Leslie Peterson – on her 15-year anniversary at Lamp Rynearson! Client relationships are her jam. Throughout her tenure, Leslie's networking expertise has been recognized on many occasions, making her a well decorated professional! Her accolades include induction into the Commercial Real Estate (CRE) Hall of Fame. As a former president of CRE Women of Omaha Metro and planner for their annual Summit conference, it was a no-brainer to honor Leslie as a Hall of Famer. Authoring and implementing client development programs are also part of her legacy. "Got Client?" is a staple of Lamp Rynearson's business development training that has continued to benefit our managers and clients, alike. How is Leslie celebrating her success? She's putting the same enthusiasm into traveling more and spending time with her granddaughter, family, and friends. We toast to your distinguished career, Leslie! #EverybodyLovesLeslie #WorkHereGrowHere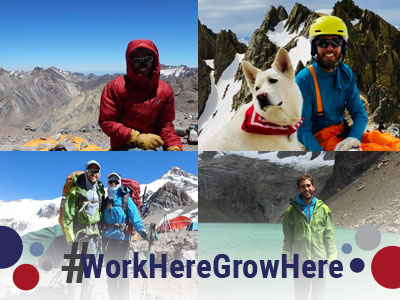 Not only is Stephan Wilson a project engineer at Lamp Rynearson, he's an expeditioner! On the weekends and holidays, Stephan is in the mountains and ski touring with his dogs. His heart for adventure doesn't stop at the office door, though. Stephan's day-to-day work is pioneering new projects with Colorado communities and utility providers to improve their water supply and treatment systems. He works with clients to discover the best solutions that will serve communities long-term. One such project brought his love for nature and engineering together during his first year working at our firm – Stephan spent a summer providing construction administration on the Colorado River! Congratulations on your first anniversary with Lamp Rynearson, Stephan! #WorkHereGrowHere