Reflecting on the past and future, we sat down with Radell (Dell) Nared, Senior Director of Diversity, Equity & Inclusion, and the CODE Initiative at Greater Omaha Chamber to discuss the history that is happening now and his role as a leading change-maker in Nebraska.
Dell is inspired to make a difference by connecting organizations to training with a focus on analyzing assessments and creating strategies that make workplaces more equitable, inclusive, and diverse. Dell was born and raised in Omaha and is a proud alumnus of Omaha North High School. Here he was involved in Football, Track, Student Council, the National Honors Society, Principal Advisory, and numerous community service organizations. Receiving the Bill and Melinda Gates Scholarship allowed him to pursue his dreams of being the first to graduate college in his family. At Texas Christian University, he earned his degree in Psychology with a minor in business. He took numerous leadership opportunities throughout his college career, including being President of Eta Psi Chapter of Alpha Phi Alpha and President of NAACP. After graduation, he returned home to lead the youth of his generation as Associate Director for Access, Inclusion and Diversity at the University of Nebraska-Lincoln. He helped recruit the most diverse classes at UNL for three consecutive years in a row. Dell transitioned to his position at the Chamber in 2021 and now serves as the Senior Director for Diversity, Equity, and Inclusion. He oversees the CODE Initiatives and the Greater Omaha Chamber's internal strategy. He enjoys spending time with his wife, and three-year-old daughter, and attending sporting and outdoor events.
Q: Dell, thank you so much for joining us! As a change-maker yourself, where do you feel you've had the greatest impact in your career? What is the legacy you hope to leave?
A: I would say the most significant impact I have had in my career was as the Associate Director for Access, Inclusion, and Diversity at the University of Nebraska Lincoln. I am extremely passionate about making sure our youth are informed about all of the resources available to them and how they can take full advantage of the opportunities. During my time, I was able to work collaboratively with our community-based organizations to get their scholars to campus and provide them with personalized tours of the campus and introduce them to stakeholders on campus that would be their support system throughout their undergraduate career. However, for me, it was enough to get them to campus; I wanted to make sure they saw someone that looked like them in our marketing materials and during our recruitment events. I am a firm believer that if you greet every family with a high-five or handshake and engage in heart-felt conversation, you will be able to find out what is important to that scholar and intentionally make that connection to create a sense of belonging before they ever commit to the university. Installing the 4-H into my team, we recruited the most diverse class in school history for three consecutive years.
I think I am still writing my legacy. One thing is for sure I want to impact my community, not just with the initiatives we have through the Greater Omaha Chamber through the CODE initiative, but by providing a platform to showcase minority-owned businesses through our Melanin Market Event that my wife and I created last year. That's big for me, but also making sure we are creating a diverse and inclusive workplace for all people to feel they are welcomed, supported, and heard.
Q: Who, in your life, has been your change-maker?
A: I'm a firm believer that it takes a village to raise a kid, so I would be remiss to say I only had one change-maker in my life. I have also been fortunate to have a community and family that supported me and served as my backbone to lean on and always go for advice and guidance. During high school, I had individuals such as George Anderson, Eric Johnson, Barry Thomas, Mr. Custard, Ms. Nolan, Ms. Jamal, Ms. Beck, Ms. Connors, Larry Martin, and so many others individuals. These were instrumental change-makers in my early educational career; they were also individuals who pushed me to excel academically, which led to me receiving the Bill & Melinda Gates Scholarship, which afforded me the opportunity to attend any university in the nation on a full-ride academic scholarship.
During my time at Texas Christian University, Dr. Turner and Dr. Jason Wallace were instrumental figures on campus for me because they introduced me to other multicultural students on campus and created a place away from home for me. They also introduced me to what it truly meant to be a part of a brotherhood, being members of Alpha Phi Alpha Fraternity Inc., and not just setting the standard, but being the standard.
As I entered my professional career at the University of Nebraska Lincoln. There were some change-makers that I looked up to such as Dr. Amber Williams, Chad Kilpatrick, Clearthur Mangram, Abby Freeman, Raymond Ramirez, Moi Padilla, Charli Foster, a Dr. Karen Kassebaum. They helped me figure out what a healthy culture looked like within an organization. To say my change-maker is one person. I couldn't. It took so many people to make sure I reached the point I am today.
Hero
"You can't have inclusion within a workplace without providing an environment where people feel psychologically safe."
Senior Director of Diversity, Equity & Inclusion and the CODE Initiative at Greater Omaha Chamber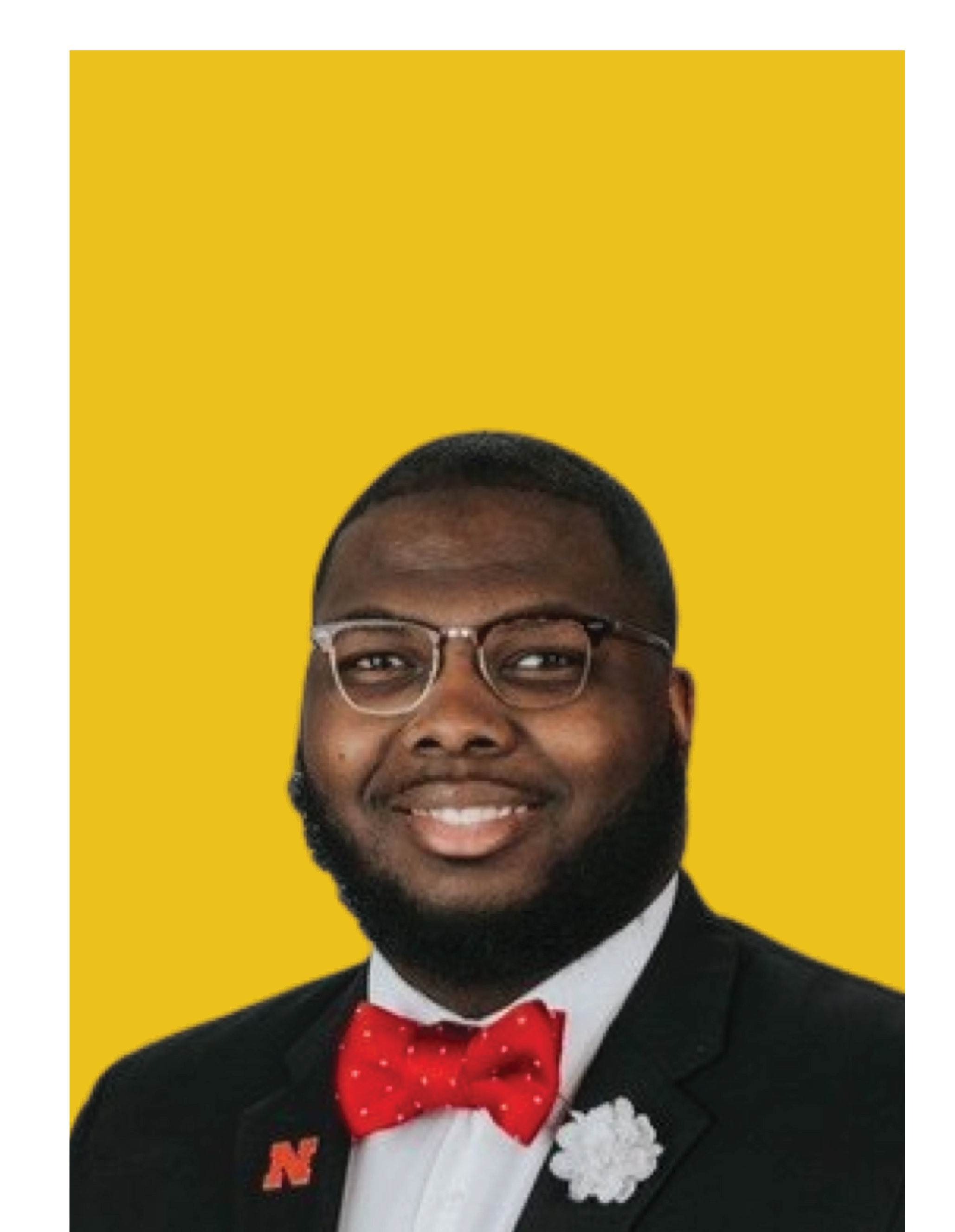 Q: The Omaha Chamber's Commitment to Opportunity, Diversity, and Equity (CODE) was created to help the community achieve sustainable growth in the areas of diversity, inclusivity, equity, and opportunity. How do you see this program guiding the next generation?
A: CODE is uniquely positioned within the chamber to help individuals in organizations achieve success by us putting on programming to help not only the DEI practitioners, CEOs, and individuals within the organization responsible for creating an inclusive workplace. Our CEOs for CODE program works intentionally with CEOs so that they understand what it takes to create an inclusive culture. We are helping the next generation get to a place where they are not behind with the times, but they are with the times and educating their DEI practitioners through our programming and coalition. It's phenomenal because we can take what our DEI practitioners need and input that into the overall framework of our programming. That helps with consistently putting together the content that is actively needed, worthwhile, and literally changing what we can do in Omaha.
We are also very intentional about what we do with employee resource groups. It's a huge way to attract and retain talent, but it also gives employees a group they can find a sense of community in outside of traditional work hours. Through our CODE Connections, we're ensuring that each community that is represented within our employee resource groups has those connections that they can count on.
The last piece is through our CODE conference, which is one of the most significant initiatives we have regarding programming. We want to ensure that individuals in the next generation of change-makers have a space within that platform to showcase their skills. This means inviting them, offering scholarships to post-secondary students, and getting them access to those tools as early as possible. They are the change-makers on their high school campuses right now, so we need to continue providing them with the tools for that. It doesn't take a change-maker to be in their 30's, 40's, or 50's. We have change-makers that are literally five or six years old. We adapt our programming and partner with external community organizations to support our youth. For a cultural experience, we partner with agencies and ensure they have discounted tickets to shows and that we are bringing in artists our youths want to hear from. We gear our program towards making sure the next generation has space, that they feel comfortable taking up that space when the time comes, and that when the time comes, they can be successful with the tools we provided them.
Q: How do you feel that communities can support the next generation of change-makers?
A: It's important that the next generation has a place they can call home, a place they are proud of. Culture and engagement all start with mentorships, access to high-skilled internships, and education. Through those key elements, it's about providing the necessary tools in the educational system to get these youths into positions that they can eventually transition into. We want the greater Omaha area to continue to be where you can raise a family and feel that true sense of community. This community thrives, and people are genuinely kind. Communities can ensure the next generation has places of employment with inclusive practices to feel safe. We have adapted through COVID-19 and going virtual. We must continue to adapt as technology advances and stay up-to-date with best practices here in Omaha.
We must equip our communities with the tools and basic knowledge of what it truly means to be an inclusive leader and create that inclusive community. We're securing a partnership with the University of Nebraska Omaha to provide small micro-credentials and badging and offering that to the greater Omaha community. We want to create an inclusive Omaha, not just a space or a sector where a particular identity has that community. You can't have inclusion within a workplace without providing an environment where people feel psychologically safe.
Dell, thank you so much for spending time with us! We truly appreciate you sharing your journey with us. To learn more about the Omaha Chamber's CODE and how you can get involved, please visit: https://www.omahachamber.org/talent-workforce/code/